| | |
| --- | --- |
| Printing Technology | Konica: Peizo Drop on Demand Electric Inkjet Technology, 4 Colours of CMYK |
| Resolutions | Maximum 1440 dpi |
| Colours | Maximum 16.7 million colours |
| Heads | Konica: 512 / 512i / 1024 |
| | | | | |
| --- | --- | --- | --- | --- |
| Model | No. of Heads | Speed in 2 Pass | Speed in 3 Pass | Speed in 4 Pass |
| Picomax KM512(30pl) | 4 | 1000 SqFt/Hr | 750 SqFt/Hr | 500 Sq.Ft./Hr. |
| Picomax KM512(42pl) | 4 | 450 Sq.Ft./Hr. | 325 Sq.Ft./Hr. | 225 Sq.Ft./Hr. |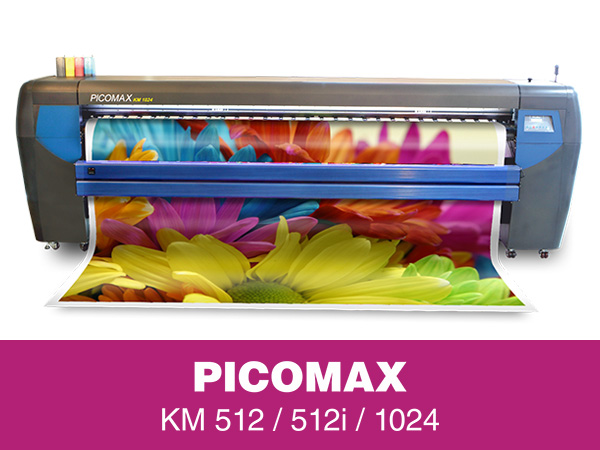 | | |
| --- | --- |
| Software | Star Rip Image Processor |
| Media Width | 130″ / 78″ |
| Print Width | 122" / 72" |
| Media Type | Flex, Star Flex, Backlit, Vinyl, Clear Vinyl, anvas,aper, Cloth,One Way Vision, Wallpaper, Radium, Eco Friendly Media |
| Ink | Pigment Based Solvent Inks |
| Interface | USB 2.0 |
| Power Requirement | 250 VAC, 50 Hz, Single Phase |
| Power Consumption | Max 450W |
| Machine Heater | 900W & 1000W for IR Heater |
*speed calculatiuon on 10ft roll under Stander conditions
The Manufacturer reserve the rights to change the specification & features without prior notice.
Very High Speed & Excellent Quality Printing With Advanced Macart Electronics And Star Rip Software.
Heavy And Rugged Structure.
Low Noise Liner Bearing.
Powerful Ac Servo Motor For High Speed Carriage Motion.
Powerful Media Gripper For Precise Media Displacement,
Controlled Media Suction For Accurate Printing.
Two Zone Media Heating- Pre And Post.
Two Fan Channels For Faster Drying Of Print.
Auto Head Capping.
Dual Control Panel – Software And Printer.
Led Light Illuminated On Printing Area.
Enhanced Colours By Advance Rip Software.
Easy media roll loading from bottom.
Swing bartype Media releaser for sticky media.
Gravity ink feeding.
Teflon ink tube for life upto 20 years long head life.
Hard aluminium alloy timing pulleys for long life.
German belt.
Macart manufactured cable drag chain for smooth movement and long life.
Extremely low power consumption.
Power failure printing continuation function.
Several ICC colour profiles available for various medics.
Solvent resistant paint.
Compact body.
More than 70% Aluminium body for very long life.
Made in India Electronics, easy to maintain and repair.